State of the Art PU Sandwich panels Lines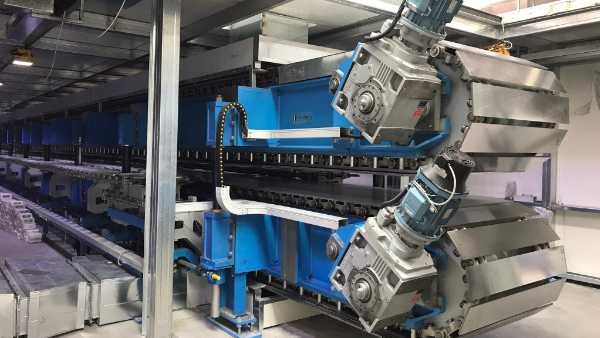 PU SANDWICH PANELS LINES
FinMach GmbH supplies State of the Art PU Sandwich Panels Lines, designed to produce high quality:
Wall Panels with visible fix
Wall Panels with hidden fix
Cold Store Panels
Roof Panels with trapezoidal Shape
Roof Panels with roof-tile Shape
Sectional Door Panels / Garage Panels
The Coils Processing Equipment of the supplied Sandwich Panels Lines includes the Uncoilers, Automatic Joining Machines, Overlapping Film Application Units, Shearing Machines, Corona treatment Units, Metal Sheet Levelers, Protective Film Application Units.
The supplied Roll forming machines are designed to produce the panel shapes and joints according to the customer's specifications and include one or more micro-ribbing stations, edging roll formers and all required options for Wall and Roof Sandwich Panels.
The PIR/PUR Sandwich Panels Lines are equipped with High Pressure Foaming Machines, designed for accurate dosing, thermal regulation, mixing and pressurizing of the chemicals to produce high quality PIR and PUR Sandwich Panels. The PU Foaming Machines, on duty of the PIR/PUR Sandwich Panels Lines, are all supplied with prime class components and include Pentane Metering Units, High Pressure Air Nucleators, Primer Units, Supplying Bars and High-Pressure Mixing Heads.
The Double Belt Press, designed to assist the foam to expand in controlled Temperature and Pressure settings, is made of two parallel conveyors, guaranteed to absolute surface finishing, flatness, and planarity, to ensure the production of high-quality products. The belt conveyors of the Sandwich Panels Continuous Press are independently heated and well insulated to allow the best conditions for the optimal foam rising.
The panels, out of the Double Belt Press, are cut into length on the fly by means Panels Cutting Machines, equipped with band saws or disk blades, according to the needs. The Flying Saw Machines are all equipped with a 180° rotating mechanism to perform the cuttings in both directions, allowing thus the production of small panel length with high line speeds.
The Panels Handling System is made of a Panels Cooling Station, designed to allow the panels foam for a slow cooling, a Panels Turning Station, and a Panels Wrapping Machine.
The RW Sandwich Panels Lines are equipped with the Mineral Wool Section, which includes all the necessary equipment to cut the Rock Wool Boards into lamellae and trapezoids, to automatically place the and glue them on to the metal sheets, to produce Wall and Roof Rock Wool Sandwich Panels. The Sandwich Panels Production Lines are all equipped with boards Dustless Cutting Systems to allow a reduced Mineral Wool waste and dust on the product.
FinMach Team, thanks to deep knowledge of processes and equipment, develops customized solutions that fit into the case-by-case needs of the customers to improve lines' performance in terms of productivity, transformation costs and product quality, during the full line life cycle.
See Also: PU Sandwich Panels Lines, PU Sandwich Panels Plant, PU Sandwich Panels Machine, PU Sandwich Panels Equipment by Finmach.
High Performance PU Sandwich Panels Lines
GET A QUOTE FOR YOUR NEXT PROJECT
---
Ask us questions to understand how we work. Bring us your ideas about your next project and we will drive you forward.